What is a one page strategic plan?
Growth Simplified
Running a successful business is a strategic endeavor. Guesswork, no matter how good your instincts, can only take you so far. The "One Page Strategic Plan" is a tool that requires focus to develop and discipline to execute against.
Originally developed by Verne Harnish and explained in his books, Mastering the Rockefeller Habits and Scaling Up, the One Page Strategic Plan is a deceptively simple yet powerful tool that helps you focus your vision and strategy down to a single, action-oriented page. It is the culmination of decisions a growth company must make regarding four critical business factors to successfully scale up–people, strategy, execution and cash.
Verne Harnish believes that if you want to get everyone in your company on the same one page, you need to be able to articulate your strategy in one page. The One Page Strategic Plan forces you to get to the heart of what you want to accomplish. Learn More About the Rockefeller Habits for Success here.
Here are six keys to creating your One Page Strategic Plan
Verifying your Executive Team is Healthy and Aligned
In the beginning, core values are uncovered, purpose is articulated and both become second nature for all employees. Developing four to five core values is important to company identity and culture. You want your core values pasted on every wall in sight. But you don't want them to just be wallpaper. Speak to them on a daily basis. Avoid "corporate speak" when you do. Addressing them out loud, verbatim, will tell you whether they pass or fail the reality test. Having a purpose gives your company the critical "why" behind all that it does. Your purpose needs to be more than just making money. It is no less than the reason your company exists.
Using your BHAG to Provide Direction and Focus 
Once you've discovered your company's Core Values and Purpose, you can use them to identify your Big Hairy Audacious Goal (BHAG). Every business needs a BHAG. The BHAG is the achievable Everest your organization needs to climb. It is a 10 to 15-year goal that captures where the company sees itself in the long term. It provides motivation for everyone in the organization, and it provides a focus for the strategies and plans that will take you there.
Making Brand Promises only to your Core Customers
The brand promises articulated in your One Page Strategic Plan are guarantees that distinguish you from your competitors and help you connect with your target customers. Under promising is lazy. At the same time, promising too much likely means you're succumbing to the temptation to invite everyone to the party, which is tempting. The more the merrier, at least at first. But as you scale up, the undesirables will gobble up your time and disrupt your focus. Identifying your core customers saves time and sharpens focus.
Winning Moves to Accelerate your Company's Revenue Growth
Objectives like developing your leadership team, improving your infrastructure and streamlining internal communications can help you compete, but they don't address what you need to do to win. "Winning moves" grow revenue. It's important to aggressively seek-out moves that help you win the individual battles necessary for growth. Develop action items, assign them to specific people and set crystal clear metrics for success
Leading Indicators Help You Measure Results
Leading indicators can be quantitative, but the economists of the world are on top of that. Leading indicators in your company are assumptions about what the future holds. It's important to identify one or two leading indicators (no more) that you will use to help measure your organization's progress in meeting its goals. As with all assumptions, they need to be verified frequently.
Tuning Rhythm through Critical Adjustments
Having rhythm means being on key and repeating the same sequence of chords and notes over and over again until they become wrote. Setting and getting into routines are what give your processes a smooth flow. It's critically important to make the right adjustments to your One Page Strategic Plan when you notice your leading indicators are off key. Establishing a regular (ideally weekly) rhythm of reviewing priorities and key performance indicators (KPIs) will allow you to nip potential problems in the bud.
How to read your One Page Strategic Plan
What are the parts of the one page strategic plan? (How the heck do I read it?!)
Good question. Honestly; it's like a map. Once you learn how to read it, it's very rich and powerful. Before then, it can feel a bit confusing. Here's how it's all broken down.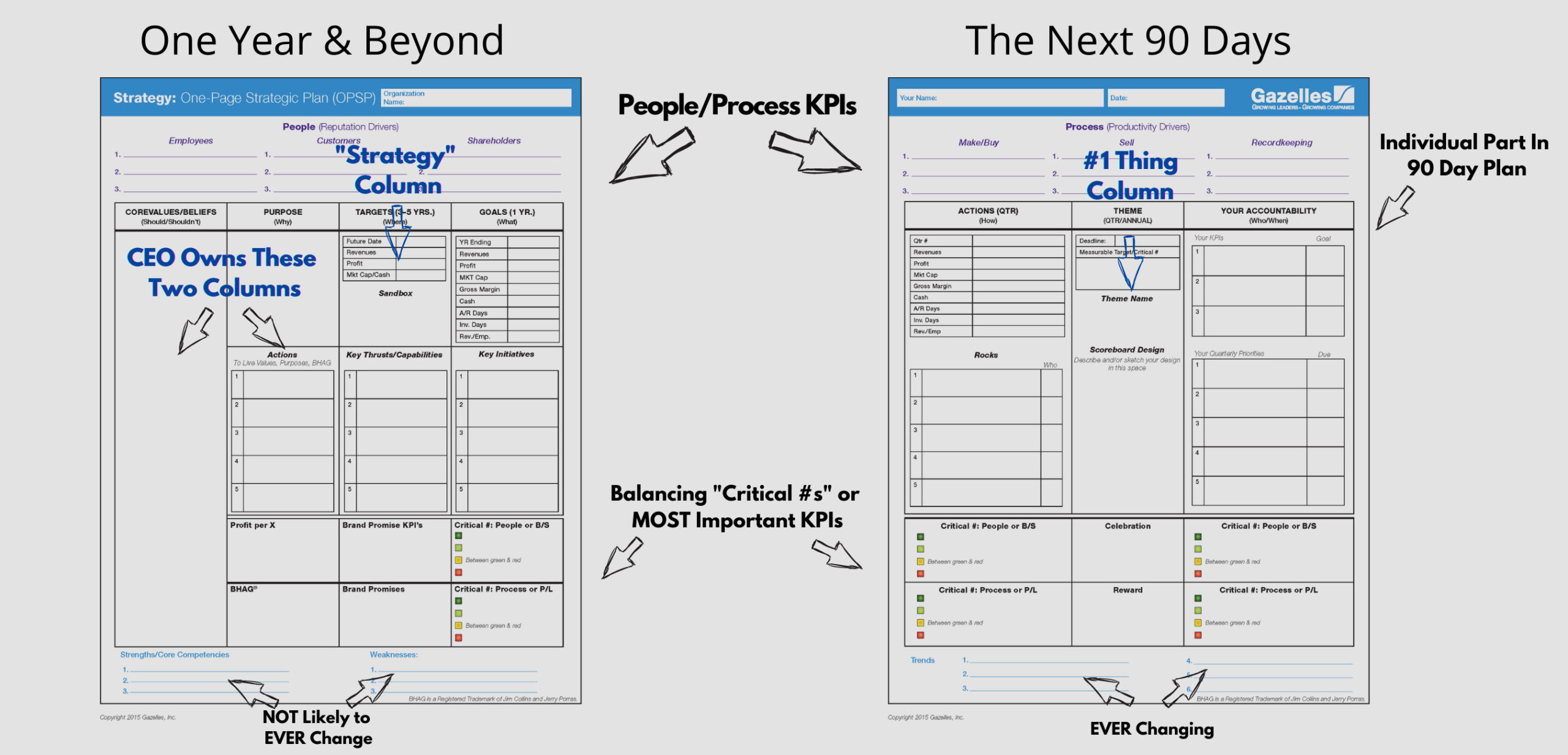 One Page Strategic Plan Download