Bring YOUR LEADERSHIP TEAM for an information-packed day where you will create a roadmap to confidently scale your business growth in 2017 and 2018. Gain the Rockefeller Habits 2.0 tools and strategies you need to:
| | | |
| --- | --- | --- |
| ALIGN Get faster results with less effort by developing organizational clarity and accountability. | ACCELERATE Develop a strategic advantage over your competitors and position your brand as a market leader. | ADVANCE   See your company's reputation and revenues soar as employees fulfill 100% of all promises. |
Prepare to make the most of the four critical decisions facing every business leader:
Attract and keep the right PEOPLE
Become a magnet for A Players who are dedicated to your goals
Increase accountability and results
Create a truly differentiated STRATEGY
Clarify your core values
Discover your SWOTs and trends
Determine your 3-5 year key strategies to catapult your growth
Drive flawless EXECUTION
Learn and apply the Rockefeller Habits 2.0
Create a culture of accountability
Fine-tune processes to run without drama
Have plenty of CASH to weather the storms
Accelerate cash flow to fuel your evolution
Improve your sales cycle and make sure you are never short on cash
Learn how to accelerate profitable GROWTH using the Rockefeller Habits™ and the Four Decisions. The Four Decisions™refer to the critical decisions that growth companies must get right to maximize their revenue, profit and time. These four decisions involve the areas of People, Strategy, Execution and Cash. This workshop will teach you tools for making the right decisions in each of these areas.
Register here now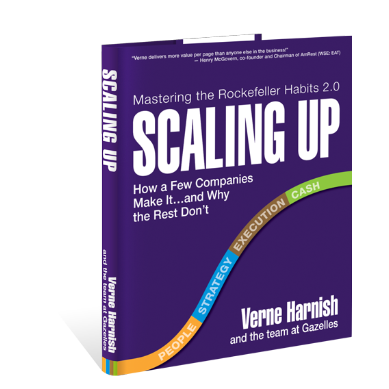 All participants will receive a FREE copy of Scaling Up (Mastering The Rockefeller Habits 2.0) by Verne Harnish
Are you ready to scale up your business NOW? 
Sign up here today.